Join Us This Summer
Come be a part of something bigger than yourself!

When Would I start?
When applying for a summer job at TRO, you will be reporting at the end of May for Staff Training. After our staff training, campers will arrive. Our Summer Camp program ends the first week in August.

Is it only a summer job?
No! After working a summer with us, there are several opportunities to still work at TRO in the fall and spring. Our retreat season begins at the end of August and ends in the beginning of May, with retreats most weekends throughout the year. There are plenty of opportunites to get paid year-round at TRO!
Where Will I be Living?
Grab your bag! We're going to the mountains! As part of our staff, you will be staying in our brand new Staff Cabin!
Your cabin has bunk beds for each staff member, private bathrooms and showers, your own laundry room, and indoor and outdoor sitting areas!
What Do I Need to Bring?!
Sheets/Blanket for a Twin XL Mattress
Pillow
Plastic storage dressers for clothing
Toiletries (Shampoo, Toothpaste, Shower caddies etc.)
Bath Towels
Bathing suits, Girls: One piece, Guys: No speedos
Beach Towel
Athletic shorts finger tip length for everyone (patagonia baggies are acceptable)
Light jackets/sweatshirts
Shirts/Pants (Leggings are acceptable only under long shirt)
Socks
Hats
Rain jacket
Closed toed shoes
Open toed shoes (chaco, teva, etc.)
Bug spray
Sunscreen
Bible
Notebook
Reusable Water Bottle
Flashlight
Backpack
Some staff shirts will be issued
Any other personal necessities needed
Be aware this will be a shared space so pack consciously
Where is TRO?
Parking Address: 85554 Blue Ridge Pkwy, Bedford, VA 24523.
TRO: 7794 Sheep Creek Rd, Bedford, VA, 24523.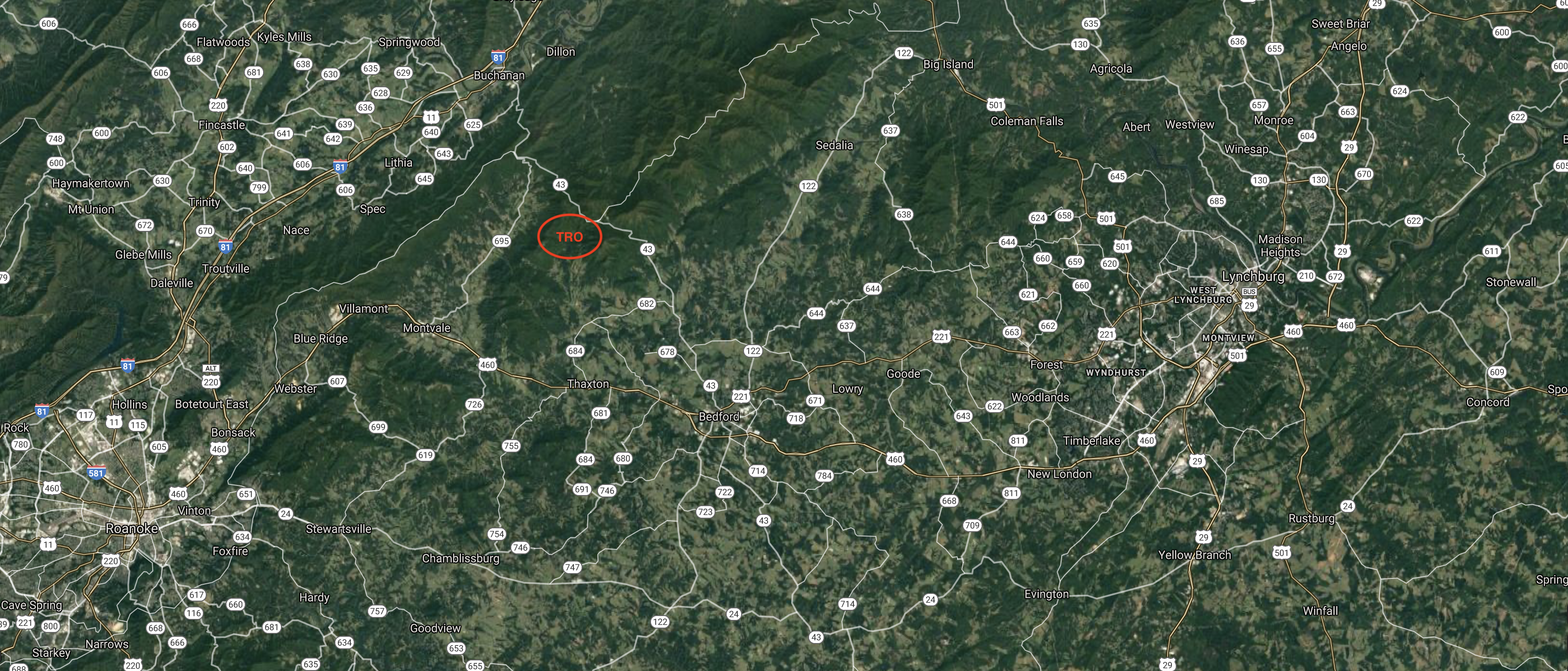 Great! What else do i need to know?!

Will I get paid?!
Yes!
We pay all our staff. During the summer, you will be getting paid for 6 days of work each week for 10-12 weeks in total! You will also have the opportunity to be paid during retreat season for each weekend you work!

What are my responsiblities/What is my role!?
Anything and Everything
At TRO, it is all hands on deck! You will be working in the kitchen, on the clean up crew, at the lake, on the ropes course, at the gun range, driving vehicles around camp, taking campers on hikes through the mountains and much more!
For our 18+ staff, you will have the opportunity to get certified as a Ropes Course Facilitator, running all of our Rec Elements.
There will also be times that staff is needed to stay in the camper cabins with our campers as a counselor.

Do you need people with musical talents?
YES!!!
One of our biggest needs each year we have camp is a cohesive praise team to lead our campers in worship every night during camp.
We would still love to have you be a part of our normal camp staff, and take on responsibilities throughout each day; however, if you are looking for a strictly worship position, we can accomodate you and your wants.
Call or email us if you have any questions, and we look forward to hearing from you!